Take Our Campus to the Next Level
The Commons: Updated Renderings March 2018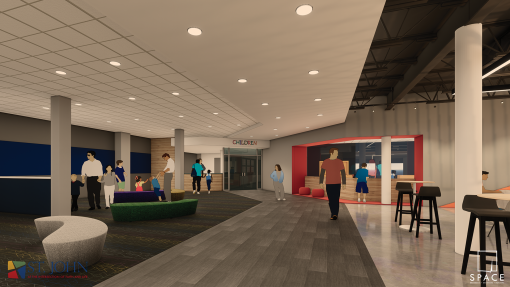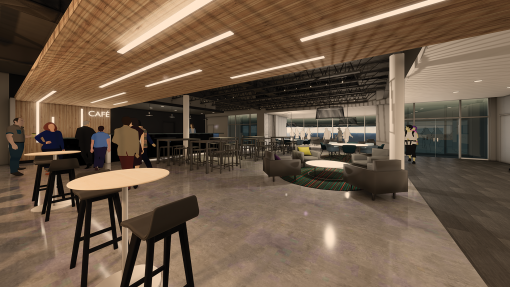 NEXT UPDATE: MARCH 2018
Your generosity is creating fresh and updated
environments all over the campus.
Phase 2: Renovations to The Commons and Children's Ministry Area
February 2018-August 2018
To make this happen, we have an a goal of $1.4 million that requires nothing less than EVERY PERSON who calls this church, "their church" to be generous... but the changes will be worth it.

Splaying the wall of the northwest stairwell corridor makes for a more open, inviting path to the Sanctuary, a new wall, new ceiling, and new interior finishes also create a unique wayfinding opportunity. There will be a new coffee bar, places to gather and an overall inviting and bright space to enter. Plus, there will be a clearly marked entrance for the Sanctuary!


Opening the corridor to Children's Ministries and creating a portal that is open, inviting kid-centric, and secure brings a hierarchy to the entrance of Children's Ministries which is safe, but visible. A new "Studio Jam" room will be created on the Commons level so that all of our kids, including our pre-schoolers, will be in one location. By reworking our floor plan, we will provide secured zones for our kids, with two access points to our nursery and preschool rooms and one for our KDG-5 rooms. That way, only the people who SHOULD be there can gain access to those rooms.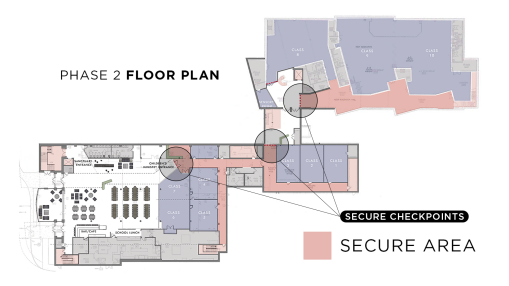 Phase 1: The Sanctuary


August 2017-November 2017
By creating inviting and updated spaces, we will better communicate who we are through our very grounds and architecture. We will also foster a greater desire to linger and share life with one another.
AS A CHURCH, WE WILL:
Beautify our exterior campus by designing inviting green spaces with outdoor areas for gathering and by providing clear visual cues directing our guests to the main entry areas for the Sanctuary, The Commons, and our Children's Ministry area.
Renovate The Commons to foster a greater sense of community. Stopping to share a cup of coffee, spending time in prayer with one another, and simply sharing life together are essential values to our DNA at St. John. New guests will experience community at St. John as soon as they step into our buildings.
Create an engaging and welcoming entrance to Children's Ministry from The Commons, distinguishing it as the key entry point to Children's Ministry and establishing a sense of excitement for our youngest as they begin their LIFEjourney.
Protect our most vulnerable by limiting access to our Children's Ministry spaces to only parents and children and creating a single drop-off and pick-up for Nursery-aged children. Enhanced security will allow parents to worship with a sense of peace and to grow in their LIFEjourney.
Update the interior of our Sanctuary so the environment compliments the worship experience by improving the sound system and modernizing our space while maintaining an air of the sacred.